This page was last updated on 5/18/2022
Minsi Trails Council Updates and News Important to Scouting
5/18/2022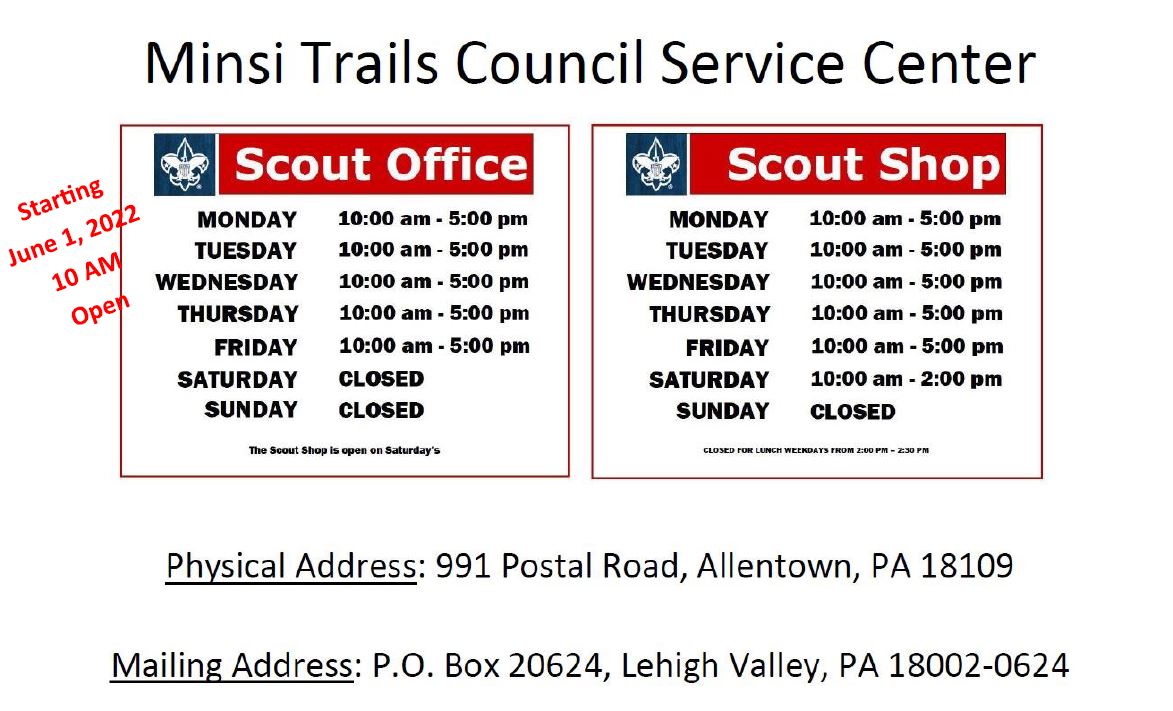 3/17/2022

On behalf of the Minsi Trails Council Board
Download a memo from Rick Christ, Scout Executive & CEO
Download a FAQ that complements the memo.
---
COVID Modifications for Rank Requirements and Merit Badge Requirements to Be Rolled Back.
As of March 1, 2022, all temporary changes made to Scouts BSA advancement requirements to address the COVID-19 pandemic will expire, and there will be a return to the standard rules for Scouts BSA advancement.
Minsi Trails Council has and will continue to follow the guidance of the Pennsylvania and New Jersey Department of Health, along with the Governor of each state. Thank you for your patience. Be sure to check back here periodically for updates in Scouting.

Scouting Activity Guidance and MTC Overall Operations
1. Dens / Packs / Troops / Crews / Posts / Ships / District Activities / Council Activities.
Pennsylvania - Updated on 2/28/2022
New Jersey - Updated on 2/14/2022
The below checklist must be used for holding any in-person Scouting Activities. If it is not practical to meet the minimal protocols found on the checklist, do not restart in-person Scouting activities or conduct in-person Scouting activities.
(Click Banner to view checklist)

The below documents are available (in conjunction with with the checklist) to help Unit Leaders and Charter Partners to successfully restart/continue Scouting activities.

Leaders, be in contact with your Charter Partner as restrictions maybe in place regarding the facility you partner with.

Unit Committee's and Unit Leaders, continue to evaluate upcoming schedules and plan accordingly by referencing the guidelines through your local and state authorities. Use the above helpful documents.

As always, participation in Scouting activities is up to the discretion of parents and guardians and unit leaders. For the protection of the community, please follow State Department of Health and CDC guidance to ensure Scouts and adults stay home when sick and do not attend Scouting or other activities.

If you have a fever, cough, or other symptoms associated with COVID-19, or if you believe you may have been exposed to COVID-19, you should isolate and not attend any Scouting events. People who think they may have been exposed to COVID-19 should contact their healthcare provider immediately.
2. Minsi Trails Council Service Center & Scout Shop
Updated on 6/30/2021
As of July 1, 2021 the Council Service Center & Scout Shop will not require masks for FULLY VACCINATED visitors. The CDC defines fully vaccinated as 2 weeks after last (second) vaccine dose.

For the health and wellness of our Scout families, volunteers, and staff, Minsi Trails Council will continue to encourage visitors to follow CDC & PA Department of Health best practices. If you feel COVID like symptoms, please refrain from visiting. We appreciate the shared sacrifices we have all had to make during the past 15 months. We appreciate the support and care everyone has shown for one another during this difficult time.

If you are unable to visit, we are happy to help. Feel free to contact our front help desk at (610) 264-8551.
Additional Information:
References - As of 11/12/2020