Wood Badge Training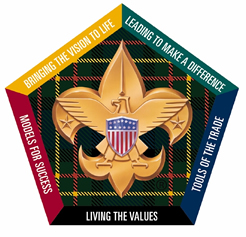 The Wood Badge program is a two-part course for adult Scout leaders. The program's main objective is to help leaders develop advanced skills in organization, instruction, and communication. In order to accomplish this, participants are organized into "Patrols" similar to those within a Troop. Each Patrol get hands-on experience with new skills by participating in training modules and reteaching what they have learned. The course content and leadership principles introduced apply to Scouters of all leadership positions and will provide a common foundation of leadership skills to be used throughout all program areas.
WOOD BADGE CURRICULUM
There are two parts to Wood Badge course, a practical segment and an application period. Both must be completed to earn the Wood Badge:
1. The practical segment is a two-weekend experience where participants learn how to realistically apply the aims and methods of Scouting in their leadership. The course is a multifaceted presentation of leadership skills, organizational tools, and participatory activities based on the best traditions in Scouting and the latest in team development theory. Fellowship between participants is another major aspect of the program, which is designed to keep patrols engaged in activity and provide plenty of fun.
2. The application segment is an 18-month period where participants practice and demonstrate a working knowledge of the leadership principles that they developed during the practical segment. Participants accomplish this by completing their Wood Badge "ticket," which is a created set of personal goals related to their Scouting position. By completing their "ticket," participants. These goals will significantly strengthen the program in which the participant is involved. During this period, each participant is assigned a counselor who serves as a resource, evaluator, and friend. When the counselor and the participant determine that the new skills are understood and can be applied to their Scouting position, a recommendation is made for the Wood Badge to be awarded.
HISTORY OF THE WOOD BADGE
The first Wood Badge course was held in 1919 at Gilwell Park, United Kingdom. Many prominent Scouting leaders at the time, such as Lord Robert-Baden Powell, desired a program where adult leaders could learn outdoor skills that they in turn could teach to their Scouts. As an award for completing the first ever Wood Badge course, Baden Powell awarded each participant with two wooden beads from the necklace of a Zulu king. These beads were tied together with a leather woggle, forming the iconic Wood Badge that the course is named after. Today, Wood Badge training is practiced in numerous countries, with a stronger focus on leadership and problem solving.
Course Dates - Must Attend All Weekends and patrol meetings!
1st Weekend – August 16-18, 2019 Friday, Saturday, Sunday
2nd Weekend – September 13-15. 2019 Friday, Saturday, Sunday
(Weekends start at 7:30 AM and end late afternoon on the last day.)
Weekend Course consists of: Two weekends in camp and Two Patrol Meetings between weekends.